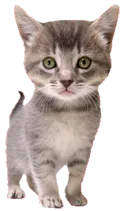 As an American Animal Hospital Association (AAHA) member, the Vet Clinic of Palm
Harbor is pleased to offer a higher standard of care in a variety of services to our canine and feline patients.
Comprehensive Exams
The Vet Clinic of Palm Harbor delivers comprehensive exams for all stages of life. We specialize in all life stages, from puppy and kitten exams to helping our geriatric patients that may require management of more chronic diseases and conditions.
Vaccinations
One of our clinic philosophies is that no two pets are the same. For this reason, every pet should have their vaccinations, treatments and therapies tailored to their individual needs and lifestyle. We follow the AAHA (American Animal Hospital Association) vaccination guideline recommendations for dogs and AAFP (American Association of Feline Practitioners) protocols for cats.
Dentistry
Dental disease is one of the most common conditions we see in dogs and cats. Diseased teeth and gums can lead to pain, bad breath, decreased appetite and serious infections. Dental disease can also affect many other organs in the body as well. For this reason, we provide a range of dental services from basic dental care to dental x-rays, extractions and oral surgeries. We routinely perform complete dental prophylaxis which include descaling, polishing and deep gingival cleanings. Please visit the American Veterinary Dental College for more detailed information.
Laboratory Services
We offer a wide array of in and out of clinic laboratory testing. Our state of the art in-house testing includes hematology, serum chemistry, urinalysis, serology and parasite testing, as well as skin and ear cytologies. In clinic testing allows us results for our patients in minutes rather than days. This will help get our patients on the road to recovery quickly. Our outside laboratory includes more in depth testing to investigate less common conditions or for specialized testing.
Full Surgical Facility
For those pets that require surgery, The Vet Clinic of Palm Harbor has a surgical suite equipped for surgical procedures. We routinely perform surgeries such as spays and neuters to soft tissue surgeries, mass removals and exploratories.
Our surgical suite allows us to monitor the blood oxygen levels, pulse, respirations and EKG of our patients during surgery. All patients are kept on intravenous (IV) fluid therapy while in surgery to help stabilize the blood pressure and to keep patients hydrated.
Pharmacy On-site
The Vet Clinic of Palm Harbor has a pharmacy on-site to offer you and your pet the convenience of obtaining prescribed medications as well as offering competitive prices. We also offer numerous heartworm, flea and tick preventions for your pet. If you would rather shop from the convenience of your living room, we have a huge online pharmacy with thousands of pet medications and preventatives.
Prescription Diets
Prescription diets are an important part of recommended treatments for your pet. We carry a wide selection of prescription diets for short and long term management of conditions and illnesses.
Sale and Travel Health Certificates
Our veterinarians are certified to issue health certificates for the sale of cats and dogs. We also offer travel certifications for interstate movement of cats and dogs as well as travel to Canada and Mexico.
X-rays and Ultrasound
Our modern, digital x-ray machine allows our veterinarians to take and interpret x-rays on-site and in a timely manner. We routinely obtain x-rays of the chest, abdomen, skull and extremities. We offer OFA (Orthopedic Foundation for Animals) certification x-rays for dogs. Certification must be done under anesthesia and can be performed for the hips, knees and elbows.
The Vet Clinic of Palm Harbor utilizes ultrasonography to help diagnose your pet's condition. Abdominal ultrasounds are generally performed with the patient awake, but can be done with the pet under sedation in some cases. We also offer echocardiograms at the Vet Clinic of Palm Harbor. An echocardiogram (ultrasound of the heart) is done to help diagnose and monitor heart disease. They can also help our veterinarians to institute medical treatments and therapies earlier in heart disease.
We also have the ability to have a radiologist review x-rays and ultrasound images electronically for further consultations.
Laser Therapy
Laser therapy is a modality which is used to help reduce inflammation on a cellular level. It has a variety of indications such as ear infections, degenerati
ve joint disease (arthritis), hip dysplasia, lick granulomas, and post-surgical healing, just to name a few. Please refer to the above laser therapy tab to learn more.
Microchipping
Thousands of pets are lost every year and a family pet becomes lost every two seconds in the U.S. We offer microchipping to help reunite pets and their families. Microchipping is a simple and relatively quick procedure which can be done with pets awake or under sedation. (For more information on microchipping, please visit the Home Again website.