Dr. Leah Hathaway
Dr. Hathaway received her B.S., M.S. and Doctorate of Veterinary Medicine degrees at the University of Florida. Although still a true Florida Gator at heart, Dr. Hathaway prefers being back home in Pinellas County. She has been a member of the VCPH family since 2014. When not spending time with her VCPH family, clients and patients, she enjoys participating in organized veterinary medicine as a member of the American Veterinary Medical Association, Florida Veterinary Medical Association and Pinellas County Veterinary Medical Association. Her hobbies include enjoying many outdoor activities like biking, exploring local parks/trails and catching live music at her favorite local spots. Dr. Hathaway also really enjoys crafting, working on the never-ending house renovation projects and spending time with family and friends. She and her husband Donnie have two girls, and their cat family consists of "Brie", "Barron" and "Freddie".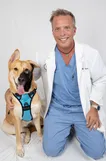 Dr. Joseph Turk
Dr. Turk is an "Army brat" who grew up in several countries and a dozen states. After high school he served in the Army himself, then graduated with a B.A. in Economics, Philosophy, and Religious Studies. He was the director of a college textbook store but decided to quit his job and return to college to study biology after watching a team of doctors treat his very ill Border collie at the veterinary hospital at North Carolina State University. Six years later he received his Doctor of Veterinary Medicine degree from the same institution. When he's not taking care of his patients, Dr. Turk enjoys sailing and boating in the Florida sun, live music, learning to be a foodie, and traveling. He is a member of the American Veterinary Medical Association, Florida Veterinary Medical Association, and Pinellas County Veterinary Medical Association. Dr. Turk and his wife share their home with two dogs.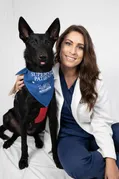 Dr. Kelsey Bollenback
Dr. Bollenback is a local girl who grew up in the Tarpon Springs area. She received her B.S. in Biology from the University of Central Florida and went on to earn her Doctor of Veterinary Medicine from the University of Florida. Dr. Bollenback graduated UF with a certificate in Veterinary Business Management and is a Fear Free certified practitioner so she understands the value limiting your pet's stress while at the vet. She is a member of the American Veterinary Medical Association and the Florida Veterinary Medical Association. In her spare time she enjoys everything outdoors including SCUBA diving, fishing, and riding her horse, "Lance". She and her husband share their home with their daughter and three rescue pups, "Loki", "Mark", and "Delta".
Dr. Joe Garcia
Dr. Garcia attended the University of Florida where he obtained a bachelor of science degree, and later earned his Doctor of Veterinary Medicine degree at the University of Florida College of Veterinary Medicine. As part of his training, Dr. Garcia completed Surgery and Medicine externships at the Animal Medical Center in New York City, Blue Pearl Veterinary Partners in Tampa, Florida and the Animal Coalition of Tampa. Dr.Garcia is a member of the American Veterinary Medical Association and the Florida Veterinary Medical Association. He is passionate about sharing information with owners to help ensure their pets live long and healthy lives. In his spare time, he enjoys traveling, experiencing new cultures through their food, and spending time with his family. His family includes his wife, who is also a veterinarian, his dog "Gilly", a terrier mix, and two cats "Toby" and "Zoey".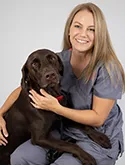 Kris - Hospital Administrator
Kris is a Certified Veterinary Technician with a special interest in surgery and intensive care. She has worked at the University of Illinois Teaching Hospital ICU and University of Wisconsin Veterinary Teaching Hospital Surgical Center. Besides being a CVT, her main duties include over-seeing hospital operations and keeping everything running smoothly. Kris and her family share their house with their Chocolate Labrador "Sam" and three cats "Alex" "Pumpkin" and "Oliver".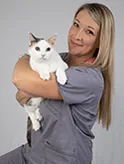 Traci - Practice Manager
Traci joined the Vet Clinic of Palm Harbor in October, 2005. A native to Florida, she is a lover of the outdoors, she enjoys boating and spending time with friends and family (2 and 4 legs). Her love for animals has brought her to the clinic. Traci's spare time is spent between Tarpon Springs and Chiefland. She currently shares her home with her special cat "Twinkle". Traci continues to learn and grow here at the Vet Clinic and is now one of our managers.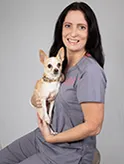 Vanessa - Veterinary Experience Manager / Technician
Vanessa was born and raised in Belgium before continuing her education in the U.S. She speaks fluent French, English and some Dutch. She has an AA degree in Sciences and furthered her studies at USF in the pre-vet program. She has volunteered countless hours at Humane Societies. She has certifications in dentistry, pet nutrition and cold laser therapy. She has been a veterinary technician at VCPH since 2005 and is now our veterinary experience manager. She strives to bring happiness to our clinic's pets, pet parents and to our team every day. She definitely has a soft spot for senior animals and focuses on their comfort. She has two children (Logan and Savanna) and currently five animal companions (Chloe- Chihuahua, Yin Yang- DSH, Hermione-DMH, Dandelion-albino rabbit, Kiwi-love bird). Outside of work, she enjoys spending time with her two and four legged kids, her family and friends. She enjoys the beach, dancing, traveling and horseback riding.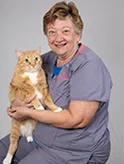 Barb - Office Mom
Barbara is a proud mother of 3 children and 7 grandchildren. Barbara is also a motivated and result-driven office management professional who really never stops working. Barbara consistently displays dedication and determination in all endeavors and has an earned reputation as an accomplished team player. Originally from Oak Lawn, Illinois Barbara and her late husband Tom moved to the Tampa Bay area in late 2005. Barbara has worked with the Vet Clinic for many years and has seen it quickly grow into a well-respected veterinary organization. When (if) Barbara is not working, you might find her enjoying time on the water or taking wonderful vacations with family and friends.
Technicians
Lyndsey- CVT

Lyndsey has been with the Vet Clinic since 2015. She has worked in the veterinary field since 2009, earned her degree in Veterinary Technology and certification in 2012, and has particular interest in the areas of surgery, dentistry, and rehabilitation therapy. In her spare time she enjoys traveling, kayaking, cooking, and baking. She shares her home with her husband Ben, Golden Retriever mix "Joey", two cats "Mouse" and "Panda" and they just welcomed their second child!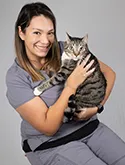 Danielle - CVT
Danielle is originally from New York and moved to Florida in 2003. She has always had a passion for animals and graduated as a Certified Veterinary Technician in 2014. She is currently enrolled in classes to further her education. She shares her home with her son Jace, her two cats Dallas and Bruce and her dog Brody.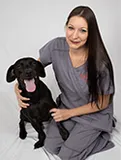 Jessica - CVT
Jessica was born in Chicago, IL and moved to the bay area in 2013. She graduated from Rockford Career Collage in 2012 and became a Certified Veterinary Technician shortly after. She has a 10 year old son who is her world. She also has 3 fur babies, two dogs named Drogo and Nevaeh and a cat named Arya. Her hobbies include crafting and doing special effects makeup. She loves going to the beach and kayaking in the natural springs.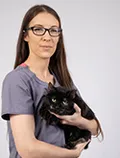 Krystal - Technician
Krystal joined the VCPH team June 2015. Her compassion for animals is what brought her to our clinic and has inspired her to further her education in the animal science field in the future. Krystal enjoys spending her free time kayaking Florida's natural springs and playing video games. She shares her home with her husband Joe, two cats Layla & Tippy and their ferret Trix.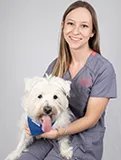 Alex - Technician
A native Floridian, Alex joined the VCPH team in 2009. She was inspired to join the veterinary field after growing up in home full of animals. She enjoys being able to connect with the people she meets at the clinic and their fur babies. Her interest in the field include surgery, dentistry and radiology. She shares her home with her husband Joey, their three children Aubrey, Avery and Emma, and their furry siblings, a golden retriever named "Kingston" and a orange kitty "Crouton".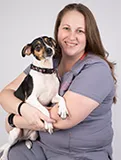 Cristina - Technician

Cristina joined the VCPH team in October 2018. She graduated with a B.S. in Interdisciplinary Psychology/Biology from Southampton College -Long Island University in NY in 2004. Cristina started as a veterinary technician 2007 while living in NY. She has also worked for various animal hospitals in Louisiana and an emergency vet in Maryland before moving to Florida. She currently lives with her three cats (Dakota, Fred and Mangia) and her Rat Terrier/Jack Russell mix Polly.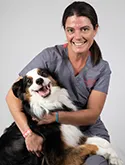 Christine - Technician Assistant
Christine discovered she wanted to work with animals at 10 years old on a trip to Thailand. She graduated with a Vet Assistant Certification from Tarpon Springs High School Vet Science Academy in 2001. Graduated from Santa Fe Community College in 2004 with an AS degree in Zoo Animal Technology, while working as a calf caretaker at UF Dairy Research Unit. Summer of 2004, she interned with Busch Gardens Zoo's Adventure camp. Presently, she is a volunteer at Tarpon Springs High School's Vet Science Academy. In her spare time, Christine loves the outdoors, kayaking, camping, and "Island Time". She also loves being home with her husband Jim, son CJ and daughter Jamie and three 4 legged children Bella, Colada and Dirk.
Autumn - Technician
Autumn joined the VCPH team in 2019 after being a student volunteer with us for a year. She is originally from Michigan and came to Florida in 2008. She is a student working on her degree in veterinary technology as well as her technician certification. Her love of animals and medicine inspired her to work toward a career in the veterinary field. In her free time, she enjoys being in nature and going to theme parks. She also loves spending time with her boyfriend Joey, her family and her 5 fur babies Jack, Dixie, Cooper, Dea and Eleanor.

Receptionists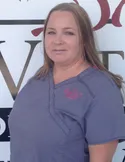 Mary
Mary joined the VCPH team February 2012. She has more than 15 years experience in the veterinary industry. Mary loves going to the beach, boating, camping and playing video games. She travels frequently and especially enjoys her annual vacation with her husband Mike. They share their home with their dogs Isis, Brix and their cats Emmet and Eli.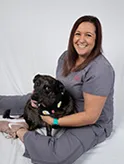 Tiffany
Tiffany joined the VCPH team in March 2018. She has a great love for animals. She loves spending her days off at the beach, poolside or taking a weekend trip or longer to someplace new. Her favorite vacation spot to be is Key West. She shares her home with her daughter & their furry friends, Hemi, a long haired chihuahua/lab mix & two kitties, Jessie & Toby.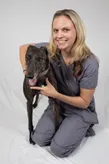 Stacy
Stacy joined VCPH in 2010 and presently works as a part time receptionist for us. She also works as a flight attendant out of St. Pete/Clearwater. She graduated from USF with a business degree in '09 (Go Bulls!) and currently has one Greyhound named Sunshine. She also loves to foster other retired racers and volunteers with Gold Coast Greyhounds in Clearwater.
Candice - Receptionist/Technician
Candice joined the VCPH team in August 2018. Candice began her passion in the Veterinary field in 2004. She graduated from St Petersburg College with her Associates of Science Veterinary Technology Degree in 2016 and Associates of Arts Business Administration in 2007. Candice enjoys spending time with her family, riding horses, going to the beach, and painting. She is a proud parent to her beautiful Spitz Mix, Delilah.